Location
Unit 34 BSS House in Cheney Manor, we have an excellent central location and have ample free parking onsite.  The closest entrance is called Access A (next to Cafe Aroma).  The outer door should be unlocked during the day, once inside take the first left and you should see the space on the right.  The door bell is to the right of the door.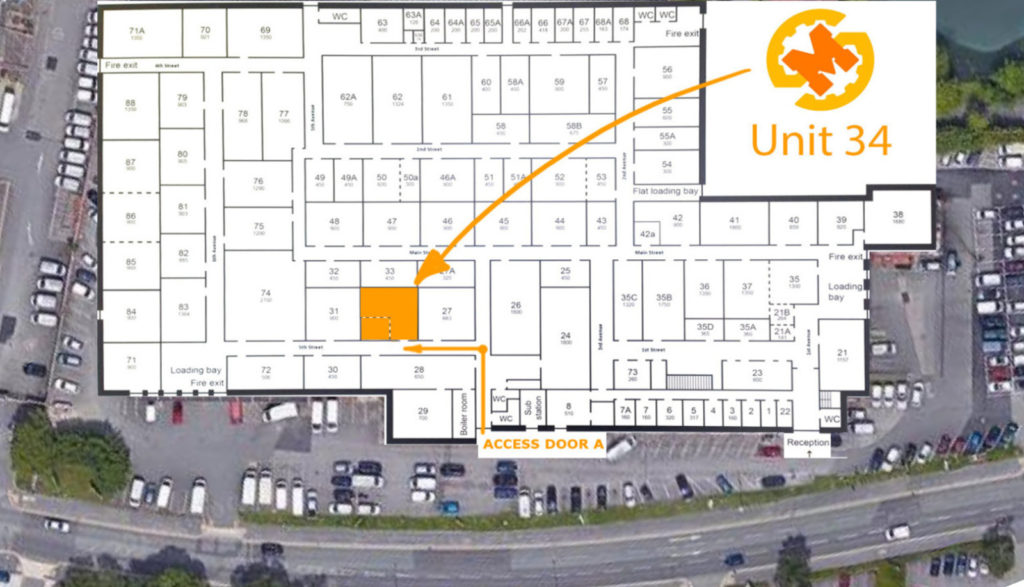 Inside The Space
Our 24×7 1200 sq ft industrial unit is arranged into a number of different zones:
Clean Space – Benches for computing, electronics and light crafts including modelling, radio control, sewing, painting and drawing (more info…)
Wood – Wood-working area with flexible benches, table-saw, mitre-saw, jointer/thicknesser and other common power/hand tools (more info…)
Metal – Metal-working area with Bridgeport milling machine, Colchester lathe, horizontal band saw, bench grinder, MIG & TIG welders and other hand tools (more info…)
Digital Fabrication – Prototyping equipment, including 3D Printers, CNC Mills, PCB Milling (more info…)
Chill Room – Space to relax and discuss projects, with projector and audio/visual equipment (more info…)
Spray Booth – Ventilated area for spray painting and air brushing (more info…)
Kitchen – with tea and coffee making, fridge with drinks and snacks
Members can access the space 24×7 using an RFID  card, visitors are welcome at our open evening (Wed from 6:30pm) or anytime if accompanied by a member.
We also have free WiFi.
Accessibility
We have made the space as accessible as possible within our current financial and spatial constraints.  The outer and downstairs doors are wide enough to allow access in a standard wheel chair – you'll be able to get into the wood and metal workshops, chill room,  digital fabrication room and kitchen.  The clean space and spray booth are both upstairs and while the stairs are regulation commercial size and have banisters on both sides we don't have a chair lift.  If you would like any more information on accessibility please contact us.