It's hard to believe that we've been open less than 6 months, and yet ahead of our expectations (and with much relief), our membership level has just tipped 32 taking us into sustainability!! A huge expansion from the founding group of just 5.
Reaching that incredibly significant milestone is extremely satisfying, and I think I'm safe in saying we're all proud of the community we're developing, but the rapid growth brings a new challenge – space. We're already starting to a feel a bit cramped on busy evenings, particularly the Wednesday open evening, so it's time to focus on our next objective – expansion!
Mezzanine
We've always known we needed a clear path for expansion, and having the room to expand with a mezzanine was a key priority in selecting a suitable property. This is by far the most cost effective way for us to expand, as we only pay rent on the ground floor area. Fortunately, our landlords approved this in principle back in Feb before we signed the lease.
So, let me take a break from prose and show you some concept visuals – first up is a simple overview of how we plan to insert the mezzanine:
Taking advantage of the high ceilings, we can gain a little under 600 sq ft replacing the current kitchenette/seating area with a wide staircase to the new floor. This also allows the remaining space above unit 34a (the inset unit) to continue to be used for storage (e.g. raw materials, WIP projects).
In terms of usage, the ground floor space can then be divided up into distinct metal/wood zones, with doors to contain dust/noise, leaving the whole of the upstairs for light crafts, socialising, etc. One option for fitting out the space is illustrated below – with green blocks indicating storage areas: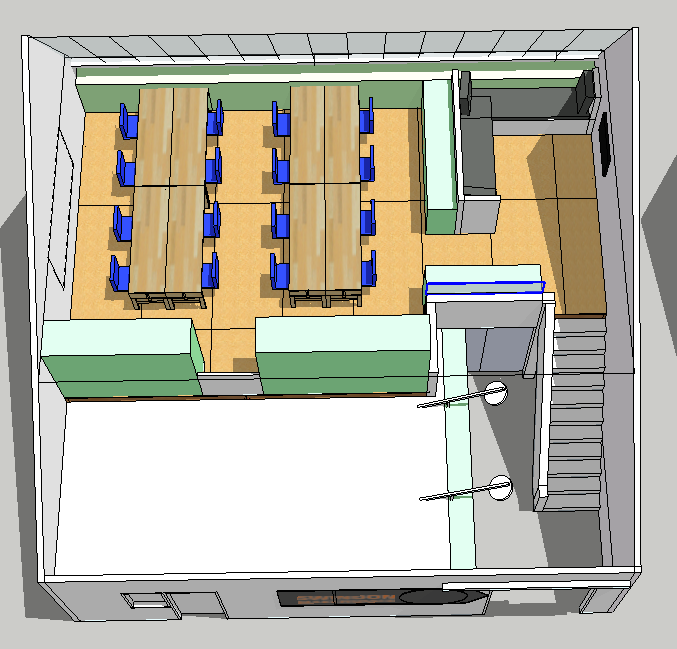 Similarly, here's an option for dividing the ground floor into metal (left) and wood (right) zones, including room for a large format laser cutter (big pink block top-middle):
Funding the Mezzanine
Funding this project is highly dependant on how we tackle the construction labour, but taking the same approach we used for the original space fit-out, we plan to do the majority of it ourselves! This keeps the cost to an absolute minimum – focused on raw materials, building control/engineering and some essential equipment.
We will also split the build into two phases:
Minimum viable product (£3k) – just the basic structural work, lighting, electrics and associated engineering/approval fees
Furnishings and aesthetics (£1.5k)
Phase 1 gets us a usable space for minimum spend, into which we can move a lot of our existing furnishing. We also have enough spare raw materials to perform a basic fit-out prior to funding phase 2.
Thus, the immediate focus is on funding the £3k required for phase 1, starting with finding a structural engineer to validate/refine the plans. Given the huge desire from our existing membership to make this happen, we've kicked off a pledge drive to raise the £3k as fast as possible.
Pledge Drive
Rather than use a crowd funding platform, we're keeping it simple and asking for honour-bound pledges from our existing members, supporters, enthusiasts and anyone else who would like to help make this happen.
So… you may be wondering how strong the initial response has been? Well, fairly stunning – since the pledge drive started last Friday (the 24th Sep), we've already received £1,250 from existing members!! and that's just from the small group that happened to be around on Friday 🙂
If you'd like to make a pledge, please get in contact with the directors via our normal email address: info@swindon-makerspace.org.
Other Funding Sources
Of course, pledges aren't the only way to raise funds. We are also working to secure additional funding through grants, gifts (e.g. Swindon Soup) and sponsorship. As grants/gifts may take longer to secure, the plan is to progress those in parallel with the pledge drive and use them to fund phase 2.
More Info / Get Involved
There is a lot more detail and planning behind the brief introduction I've shared above – please get in touch if you'd like to know more or want to get hands on with the project.
Finally, we're always grateful for any/all donations and until it's funded, every penny will be put behind the mezzanine expansion:
thanks
Damian