The big news is that we re now open after 6 weeks of hard work turning a shell of a unit into a really usable hobby space for our members and their guests.
From this:
To this:
From this: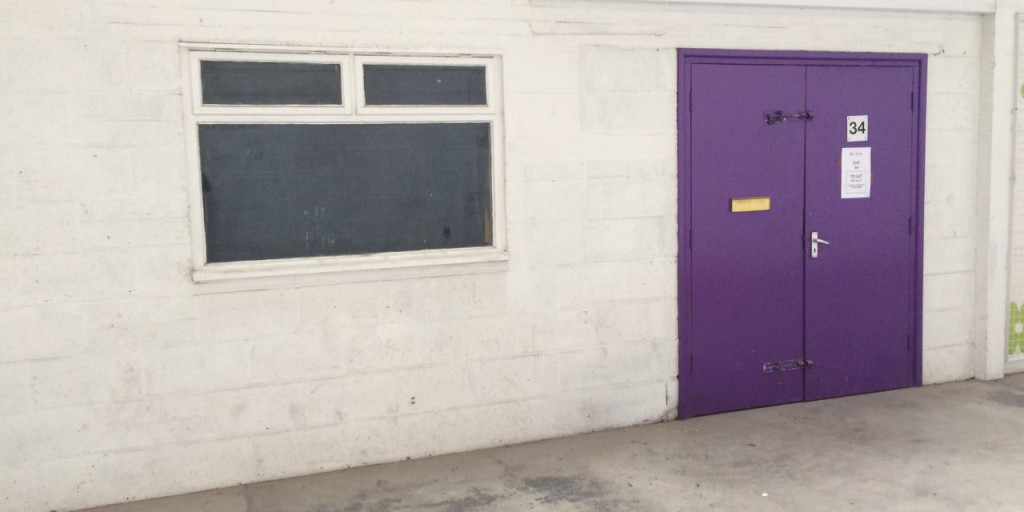 To this: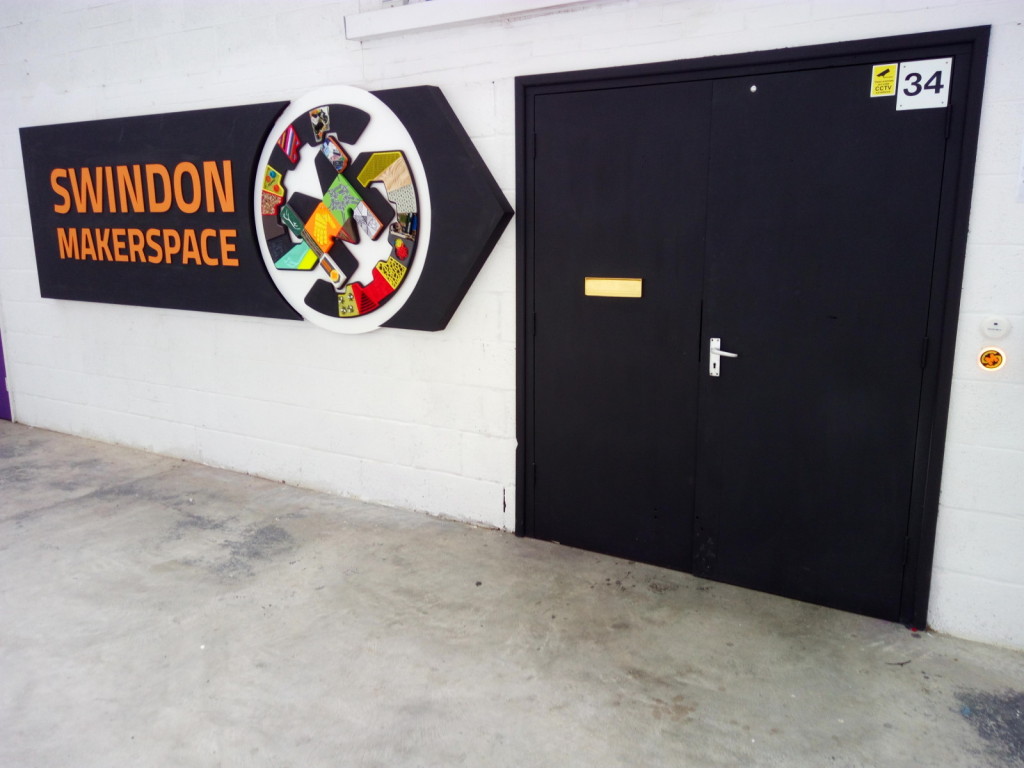 We're not finished yet either, we still have a Paulk Workbench II to build and many more ongoing improvements, but for now we are very much functional.
Open Weekend
As a special celebration, we're holding an Open(ing) Weekend on the early May Day bank holiday, all three days, from 10am to 4pm.
We'll have tea, coffee, soft drinks and snacks. Visitors will be able to play the new 'Beat the Geek' games, trying to beat our scores at some games we've made. Alongside we'll have demonstrations of how to make the games (3D printing, electronics, robotics, etc), and sign-up sheets for workshops.
We also have the Mayor of Swindon coming along for a launch ceremony at 2pm on the Saturday, accompanied by local media – it would be great to see as many of you as possible for the associated photo opportunities.
See our events page if you want to add it to your calendar.
Sustainability
We rely heavily on membership subscriptions and donations by benevolent benefactors to keep paying the bills and keep the wolf from the door. We are a not-for-profit community interest company without shareholders or anyone taking a wage, all profits have to re-invested back into the company.
We welcome our new members who have signed up already. Currently we are 2 months ahead of our sustainability curve and are halfway towards our membership break even target. Obviously super delighted that this has happened already without officially being open. With the open weekend coming up and the associated press releases that are furiously being mailed out, we are confident that more will knock at our door (or wave their hand at our doorbell but more about that later).
If anyone out there was waiting for us to open before visiting, then now is the time you can pop down any Wednesday evening to take a look around and have a chat. If you can't make a Wednesday evening due to other commitments then please get in touch via email and we can hook you up with another day when there will be a member present to show you around. Currently Saturdays are another busy day so do say hello then if you are passing.
General Progress
Outdoor Sign
We have finished the major part of the signage construction and are still waiting for some tiles to be finished off, but we always thought this part was a continually evolving thing anyway. The CNC cut lettering has been painted and glued on and looks great.  We still have some LED back lighting to fit to make the left and right curves of the logo board glow which should look very cool. You can see the latest piccy of the signage above.
Access Control
We have also been working on an access control system where each member will be issue with an RFID card or key fob. They can also use other compatible devices like smartphones/Oyster cards or Works access cards where we can programme our system to allow them 24×7 access. If you decide relinquish your membership (by not paying) then access will be revoked automatically. Some of the advanced machines (deemed regulated equipment) will also have functionality where you will have to tap your access card on it to use, therefor limiting its use to members who have been inducted to use that machine safely.
To gain entry into the space, tap your access device against the "Magic Access Orb" to the right of the doors and if we say yes, the door will be unlocked and you may pass.
Magic Access Orb :
Blue = Doorbell triggered.
Yellow = Door locked, waiting for a tap.
Green = Tapped and access granted, door unlocked for a short time, spinner runs down until re-lock.
Red = Access denied, door locked.
To trigger the doorbell, just wave your hand by the doorbell sensor just above the magic orb and if there is somebody inside hears the demented bird chime then they should come to your welcome:
Inside
Shelves have been made and attached to the walls. the shelves were made by one of our members constructing a little jig to make and assemble the brackets quickly and consistently.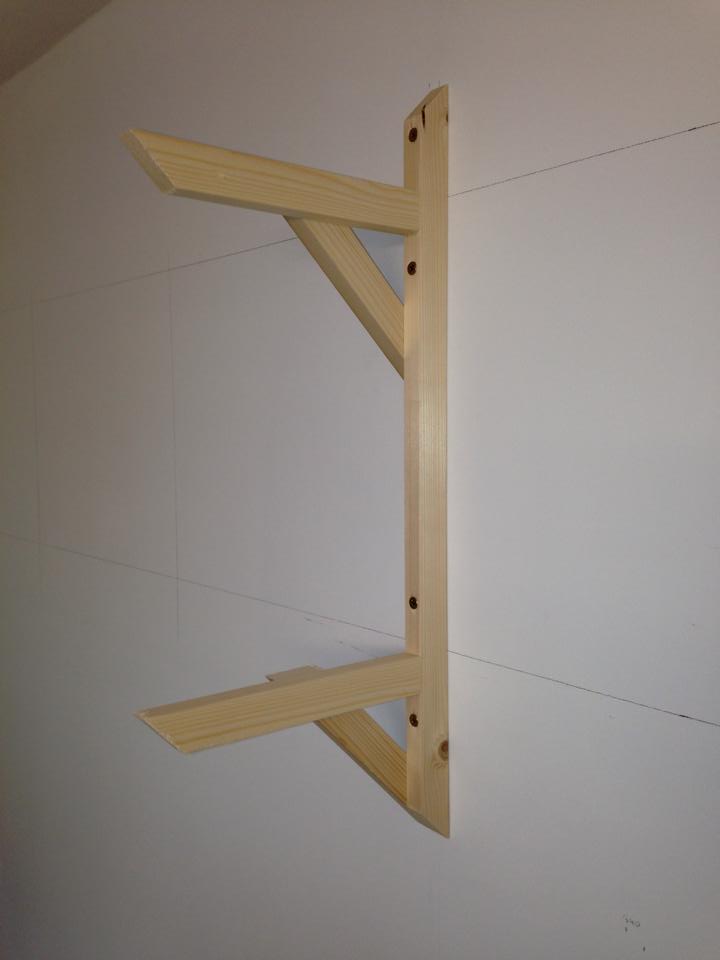 We have now rigged up the sound system to the projector facilities so as well as educate and give talks, we definitely cannot watch movies or play video games 😉
After a tidy up here are a couple more panoramas of the current "space of play":

Donations
We also had a kind donation of some handmade sofa cushions and seating :
Two 3D printers are now present in the space as well as another on it's way. Most of our members already have 3D printers at home so between us we can offer world class knowledge and education in the field of 3D design and printing, flexible plastics also a speciality with our resident guru Gyrobot (that's me being modest and he who writes blogs gets to be biased;).
We have a wood lathe that has been dropped off and members have been having a play with that.
Many thanks go out to the donators.
Future
As I mentioned earlier, we still have a Paulk Workbench to build and a quick Google search will tell you all about it, but here is an intro video from the creator himself Ron Paulk.
It is a great lightweight, strong and portable workbench that ticks all the boxes for us. It is important that all our furniture is flexible enough to be re-arranged and easily storable against walls.
I will be bringing over my metal lathe/drill/mill 3-in-1 combination machine sometime soon: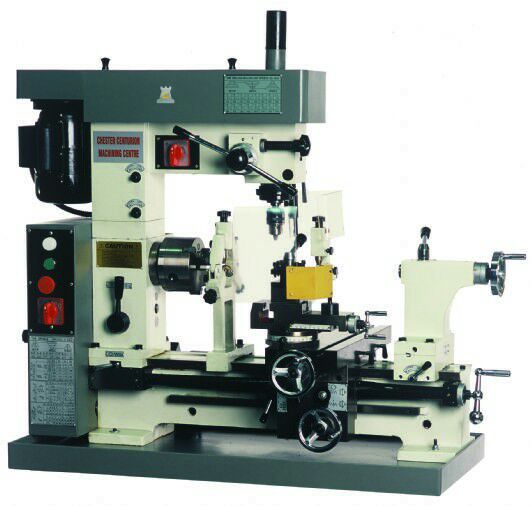 We have a small bench top CNC router (called a Shapeoko) to upgrade and turn into a working machine. This can be used for engraving, profile cutting and 3D milling of wood and plastics.
More amateur radio bits to go in and get rigged up.
Extra speakers to wire up and their cabinets to make.
In the future when finances allow, we want to build a mezzanine floor to double our capacity and split the space into clean/quiet and dirty/noisy sections. This will take about £5K in materials and that's on a budget where we make it ourselves and as always, time offered freely, if anyone would like to donate to or sponsor this kind of project then please get in touch.
Also a laser cutter is something else on our wish list.
But for now as you can see, we are very much ready to make!